Owning the S60R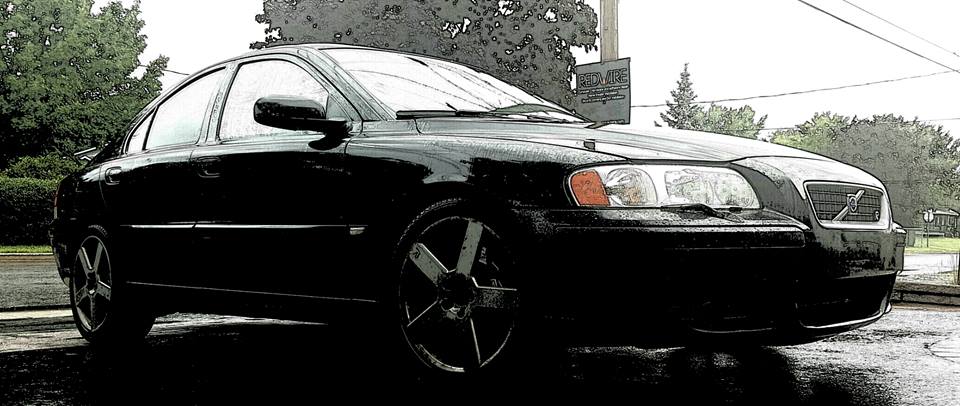 This car is a beauty. It's a monster. It's a volvo!
Seriously, a volvo. You know that, you searched google looking for a solution to an R problem and came across this post.
Why this car?
Volvo is known for boxy cars that perform well, and put infamous amounts of R+D time and money into safety. They are the safest cars on the market, by far. They are tanks, but will happily destroy themselves to keep you unharmed in the event of a collision. The S60 is a line of compact executive cars, which looked like your average compact sedan and was nothing to write home about, apart from their driveability and safety record. Volvo Introduced the R version to test its hand at making racecars (later called Polestar) by adding a Haldex all-wheel-drive system, a KKK-K24 turbocharger (to give the 2.5L 5-cylinder engine a lot more pep), Brembo 4-piston brake calipers, and the Four-C electronically adjustable suspension system that not only adjusts the power, brake, and shock to all 4 wheels independently 500 times per second, but also works to keep you on the road during adverse weather conditions. Seriously, the active Yaw control will pull you back to the road if you start to slip off. Winter driving has never been so fool-proof! My particular car is also equipped with the relatively rare Atacama leather interior (imagine seats made out of a soft baseball glove), and premium 14-speaker sound system that cant do mp3 and has no aux jack.
Problems
This car is a pleasure to drive, but a real pain in the ass to maintain. I was given my car by a close friend, the original owner, because he was tired of its constant problems. When I became owner, it had 360,000 kilometers on the odometer, and a short list of problems that needed fixing. Firstly, the transmission had developed the not-uncommon 2-3 shift flare.
When the AW50 geartronic transmission used in the 04-05 S60R gets hot, micro fissures in the aging valve body (or early poorly-designed B4 servo cover) allow the pressurized fluid to get to places it's not supposed to go. It also foams, tricking the sensors into a fail condition. The TCU reacts to this data by boosting the shift pressure to nearly 200psi. The next time it decides to shift from 2 to 3, the bubbles in the transmission fluid cause a small delay and it goes neutral for a couple seconds, finally smashing into 3 as the engine revs up, causing a dreadfully hard shift that can lead to the transmissions destruction quickly. Over one summer I flushed the transmission with new fluid, rebuilt the valve body, cleaned the solenoids, and it hasn't happened since.
As soon as I put the car back together, the alternator went. Fed up, I let the car sit for a couple years.
Eventually I had a problem with my Honda (I got cut off in traffic and blew the brake lines out with one mighty foot stomp, resulting in my inability to walk for a month, and some minor body damage to the front of my car), and decided to change the alternator and start daily driving the volvo again. I opened the hood to find squirrels nesting and some wires chewed up. Relatively easy fix. Dead battery. Hundred bucks. Okay, the car was road-worthy again.
Not long after, I started having problems keeping air in the tires, despite their being brand new. I soon discovered a crack in the 18″ Volvo Pegasus rims. Now, the reason these rims are special is because the Brembo 4-piston calipers are fucking huge, and these are the only wheels that fit over them. Even the donut looks like a giant spider. Because of this, steel wheels dont exist, and you have to use these mags in winter too. A decade of that, and Quebecs awful, awful, awful roads, leads to embrittlement and easy cracking. It's not recommended to weld, you have to replace them. Good luck finding these goddamn rims though, you have to get a complete set of something else. I tried to get it welded, and it lasted two days before another crack appeared a few inches away. Then another rim cracked. So, a new set of wheels was finally ordered after searching far and wide for a good deal on.. anything that would fit. Of course they still have to be custom bored for the oddly-sized hub before they ship to me.
Okay what can go wrong next? Oh, the horn stopped working for some reason. Upon investigating I found that the horn fuse had blown. So I replace it, and notice the horn elements are heating up, but not making noise. The fuse blows again. BAH. So there is no dedicated switch or relay for the horns on this car. They are controlled via canbus signals by the Central Electronic Module, which has a soldered-in relay to control the horn. The relay goes bad, the whole CEM needs to be replaced. If you want to pull it out and try your hand at replacing just the relay, good luck. You still need to take off your wipers and front cowl to access the CEM buried in the firewall above the gas pedal.
Next to go was my all-wheel drive. Well, technically just the driveshaft CV joints. So I put the car on a lift and with relative ease, remove the driveshaft. 6 8mm hex bolts up front, 6 in the rear. Have to tap a bolt through an access hole in the back to push the joint out of the carrier, and then the shaft wiggles out over the exhaust towards the rear pretty easily. What isn't easy is finding replacements. I was quoted 1500 bucks for a new driveshaft assembly. 800 if I buy online. I only need the joints though, so I looked it up. 250 to 350 bucks per joint, fuck that! Got a driveshaft from a Volvo C60 at a scrapyard for $20. The shaft is a couple inches too long, but has the exact same CV joints, and they were very easy to swap. Driving the S60R in FWD was a lot of fun, hard on the tires though, putting 100% of the cars torque to the front wheels and failing to get traction. But the car is back to AWD and happy about it.
Of course that would be a good time for both the Fuel Pressure sensor AND the Mass Air Flow sensor to fail. The car still drives, but often hesitates and sometimes stalls, because the engine has literally no idea how much air and fuel is available. The car uses the FPS to apply PWM to the fuel pump, modulating it so it's not running 100% all the time, but pumps based on demand. Without the FPS the pump just wildly flails between 15% and 100%. Usually there's enough fuel pressure, but sometimes dips off and makes driving on a highway a bit more of a challenge. Luckily it wont cost more than a couple hundred to replace these two sensors.
Changing the brake pads ended up being easier than a honda, and for that reason I love these Brembo calipers. On a Honda, and many other vehicles, you have to remove the caliper to change the pads. On these brembos, just punch out two pins to access the retainer spring, two pads, and four pistons. Easy peasy!
Lets see what happens next.